Malware doesn't just affect your PC anymore — it's gotten personal. Through ransomware and webcam spying, hackers can get to your most personal files and photos, or even peep into your home. AVG Internet Security now comes with new Webcam Protection and Ransomware Protection features to secure your personal files — and your private life.
Compare
AVG Internet Security 2016 3-Users
Our first line of defense for your PC
We secure your USB and DVD drives just as quickly, too.
Our favorite bit? It updates your security automatically, and uses advanced Artificial Intelligence (AI) and real-time analysis to help stop even the newest threats from getting near you.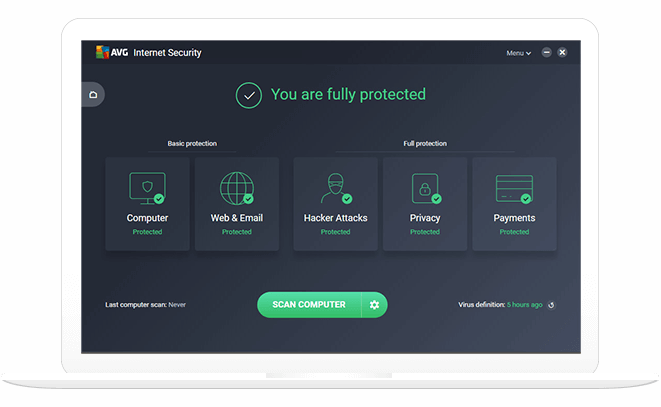 Advanced Antivirus
Thoroughly scans every corner of your computer (and any drives connected to it) in real-time for viruses, ransomware, spyware, worms, Trojans, rootkits, and other malware. You can even schedule whole-computer scans for those times you won't even be at your computer.
AI Detection
Uses advanced artificial intelligence on your computer to proactively identify malware samples that haven't yet been catalogued by our ThreatLabs team.
CyberCapture
Cloud-based technology helps stop even the newest malware variants and outbreaks in real-time. Anytime our antivirus encounters an unknown threat, it uploads it to our ThreatLabs team for analysis. The end result? Better protection for everyone.
Behavior Shield
Like an alert watchdog, this feature works in real-time to sniff out suspicious behavior of any software running on your computer and warn you if anything is amiss. This helps protect against 0-day threats, malicious programs, and even keyloggers that secretly record typed passwords and bank account details.
Real-Time Updates
Ensures that your security is always up-to-date by pushing virus definitions, bug fixes, security updates, and new features to you as they become available.
Additional information
| | |
| --- | --- |
| Brand Name | AVG |
| Year Of Release | 2016 |
| Product Warranty | 1 Year |